Hamilton discards Perry in battle of 1-2 in 6A
September 27, 2016 by Les Willsey, AZPreps365

Hamilton's girls volleyball team played the way coach Sharon Vanis envisions on a nightly basis on Tuesday -- strong in every phase. The Huskies opponent -- unbeaten Perry? Just say the Pumas were far from their best. That combination added up to Hamilton sweeping Perry with ease, 25-16, 25-20 and 25-12 at Hamilton High in a 6A match up of the No. 1 and No. 2 teams in the most current power rankings.

It was the first loss of the season for Perry, which won its previous 14 matches and dropped to 9-1 in power-ranking matches. Hamilton improved to 18-1 and remained unscathed in power-ranking matches at 10-0.

"I know we didn't play well," Perry coach Fred Mann said. "But they were really good. We started slow and made a bunch of errors the first set. They played great. I think the way they played made us look bad. Sometimes you have to credit the other team for how you play."

Hamilton, which ran its winning streak all-time over Perry to 11-0, wasted no time in demonstrating dominance. The Huskies built 5-1 and 10-2 leads in the first set causing Mann to use both his timeouts to settle his team.

But no dice. Hamilton middle blocker Preslie Anderson contributed five of her 10 kills for the evening in the opening set. The Huskies totaled 11 kills in the set and Perry helped out with six attack errors and four service errors.

Perry appeared to have settled in in the second set leading pretty much all the way through 16-14. A 9-2 run spearheaded by a pair of aces from Sarah Miyazumi, four kiills each in the set from Anderson and Darian Clark (kills for the match) and momentum a second-set triumph might have given Perry vanished. Heaven Harris also had nine kills for Hamilton.

The final set was a complete runaway and the match was over in tidy 60 minutes. Vanis cautioned her team between the second and third sets to not let down.

"I was worried because they've shown the ability to come back down 0-2 to some good teams already," Vanis said. "They did that against Xavier and Desert Vista."

Hamilton's defense, which often sets it apart from other teams, was rock solid. Kimber Kemp and Clark had 12 digs apiece and Anderson added 11 digs. Junior setter Shannon Ryan, returning after missing 10 days with an ankle injury, collected 34 assists.
Amanda Aguirre led Perry with eight kills and Alexis Keith, playing in her first match of the season, had seven.
Perry edges Xavier 3-2 in battle of unbeatens
September 14, 2016 by Les Willsey, AZPreps365
Now that's the way to start a rivalry. The NFL might be jealous with the parity and excitement exhibited Wednesday night from the Perry-Xavier Prep volleyball match. A 6A region game between unbeaten teams. A match where no lead was safe.

In the end, Perry took down one of 6A's preeminent programs in Xavier. The Pumas dropped the first two sets and prevailed in heroic fashion by taking the next three. Scores were 24-26, 24-26, 25-21, 25-21 and 17-15.

"Entertaining," a flabbergasted Perry coach Fred Mann said after absorbing his team's 14th consecutive win this season. "We showed a lot of resolve. We didn't always play well, but the girls got it going when they had to. I felt we had a shot in Game 1 and Game 2. Disappointing we didn't win either one. But they made a great comeback against a great team." Perry has defeated last year's big-school state champ Desert Vista and last year's runner-up (Xavier) among its 2016 conquests.

Perry's come-from-behind victory was aided in great part by monster efforts by junior opposite-outside hittter Ryann Davis and senior outside Amanda Aguirre. Davis finished with a match-high 28 kills and Aguirre chipped in 23. Aguirre was quite busy adding 27 digs. Junior middle Kennedy Kaminsky caused problems blocking and serving. She had four of the former and six (aces) of the latter.

Xavier (5-1) also flashed impressive stats for the match with more balance. Grace Morrison and Lanie Wagner had 11 kills apiece, Kristen Klein added 10 and Makenna Patterson chipped in eight. Patterson frustrated Perry's attack, particularly in the second set. She finished with 4 solo blocks and five assists. Wagner had 3 solo blocks and six assists and Emma Gelinas 1 solo block and six assists. Setter Shannon Shields had 36 assists and 18 digs.

Both teams showed the ability to play from behind. That was impressive given the caliber of play both exude. Perry led the first set a couple times by 5, including 19-14 before Xavier tied it four times late. Xavier led only twice in the first set -- 25-24 and 26-24.

Xavier led the second set by as many as 10 and as late as 18-8. Perry tied it twice -- the final time at 24, but a Klein kill and Perry pass into the net gave Xavier what could have been a deflating 2-0 lead.

Perry (14-0) pumped itself up the rest of the way, rallying in every set. The Pumas trailed at one time 14-7 in the third set. Aguirre collected eight kills in the third set to buy Perry another set. The fourth set was a carbon copy of the third as Xavier bolted to an 18-11 advantage. Davis led the charge in this one with a nine-kill set.

In the final set Perry grabbed a 6-2 lead, but lost it a couple times on the way to trailing 13-12. A kill and ace from Davis gave Perry the first of three match points. The match ended on Aguirre's final kill and then an ace by Katie Koski. -- the 13th of the match for the Pumas.

"Our serve-receiver and passing killed us," Xavier coach Lamar-Renee Bryant said. "We were a little nervous to start, but gutted out Game 1 and Game 2. We gave up too many seven or eight-point runs....

"Perry is a good team. They are in it to win it. We'll circle the calendar for the next time we play them in region."

Gilbert Perry volleyball makes early statement with Chandler tourney title
September 6, 2016 by Richard Obert, azcentral sports
Gilbert Perry, ranked No. 4 in the 6A Conference entering the season, has preseason No. 1 Phoenix Desert Vista taking notice, after the Pumas captured the House of Payne Girls Volleyball Tournament in Chandler over the weekend.

Led by outside hitter and tournament MVP Ryann Davis and all-tourney member Kennedy Kaminsky, Perry won all eight games in straight sets.

Now, Perry will see if it can use that as momentum for tonight's early-season home showdown against Desert Vista, which needed five sets to beat Anthem Boulder Creek and four sets to beat Phoenix Pinnacle to open the season last week.

Perry (10-0 overall), beat Phoenix Arcadia, Queen Creek Casteel on Friday, then beat Tucson Salpointe Catholic (twice, including in the championship game), Chandler Valley Christian and Mesa on Saturday.

Valley Christian was ranked No. 2 in 3A. None of the other teams were ranked last week.

"We need to put it in perspective," fourth-year Perry coach Fred Mann said. "But this team is better than any team I've had (at Perry) in the past."

Tonight will be the first major test for the Pumas, who scrimmaged Desert Vista before the season officially began. Desert Vista is the defending state champion with 6-foot-2 senior outside hitter Hailey Dirrigl leading the way. She had 36 kills and 20 digs in two matches last week.

"I hope we play well," Mann said. "We have played well this season for most parts. They're the defending state champion and ranked No. 1. We'll try to give them a run for their money. We want to think we're one of the teams in the top echelon."
Perry's pleasure is winning House of Payne Invite
September 3, 2016 by Les Willsey, AZPreps365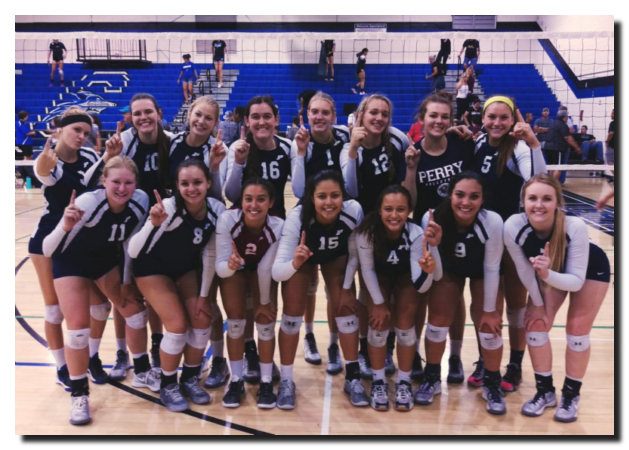 Most learned observers believe Perry girls volleyball is a team to be wary of in 6A this season. After one week -- so far, so good.

The Pumas won a pair of power-ranking matches in the middle of the week and topped it off with an 8-0 run Friday and Saturday to by win the championship of the Gold Division of the annual House Of Payne Invitational at Chandler High.

Perry captured the 20-team tournament winning every match 2-0. Adding in the power-ranking matches, the Pumas have taken all 22 sets the've played. It's not one or two players doing the damage either. There is plenty of depth for coach Fred Mann to contemplate.

"We're on a good little run," Mann said minutes after beating Salpointe for the championship, 25-19, 25-19. We have some nice players. Our ball control has been pretty good. We've really blocked well. We work on it so much in practice. We're looking to get better all the time. I've already seen that in these first couple weeks (practice and matches). We have a tough one with (defending champ) Desert Vista on Tuesday."

Eight different players registered at least one kill for Perry in the two-set title win over Salpointe, led by junior hitter Ryann Davis (seven) and senior outside Amanda Aguirre (four). Junior middle Kennedy Kaminsky and sopohomore middle Grace Doyle, a newcomer to the varsity, added five blocks. Perry never trailed in either set, but got a better test from Salpointe than it did earlier in the day when the Pumas topped the Lancers, 25-15, 25-12.

Salpointe earned its berth in the title match rallying from a set down to Queen Creek and then a seven-point deficit in the second set to best the Bulldogs in three, 20-25, 25-21, 17-15.

Salpointe finished 5-3 in the tournament and was sparked by senior outside hitter Maggie Schepelmann in coming from behind to eliminate Queen Creek. OH Alanna Duarte chipped in with six kills and OH Madison Sundholm added five in beating the Bulldogs. Salpointe recorded 12 aces in the Queen Creek match -- four from Schepelmann and three from Sundholm.

Queen Creek posted a 6-1 record winning its three pool matches Friday and Saturday before falling in the semis to Salpointe. Queen Creek dropped two five-set power-ranking matches prior to the tournament to 5A contenders Notre Dame Prep and Sunnyslope.

Two Perry players led the seven-player all-tournament team -- Davis, the tourney MVP and Kaminsky. Queen Creek placed three players -- junior setter Kennadee Coplen, freshman MB-OH Jaelyn Hodge and and sophomore opposite Kate Grimmer. Rounding out the team were Valley Christian junior outside hitter Courtney Dyer and Mesa sophomore outside hitter Annie Hatch.

Girls volleyball: Upending 6A power programs difficult task
August 25, 2016 by Les Willsey, AZPreps365

Much like the landscape in big-school football (6A/Division I), girls volleyball of the past half-decade has revolved around a precious few schools -- Xavier, Desert Vista, Hamilton, Gilbert and Horizon. Four of those five have won a championship between 2011-2015. Xavier has advanced at least to the semis each year and Hamilton and Horizon three times each in that span.

This quintet doesn't figure to relent this season. A question for 2016 -- Are there others equipped to crash this five-school party? The resounding consensus answer from the coaching staffs is yes. Primed for a break-through, they contend, is Perry High.

"They're big and have tough servers that will knock good teams out of system," Xavier Prep coach Lamar-Renee Bryant said of the Pumas.

"For sure Perry will be at the top with everyone," Hamilton coach Sharon Vanis said.

Also gaining kudos in the conversation is Corona del Sol, almost unanimously with a caveat.

"Corona has a lot of talent if they stay healthy," Desert Vista coach Molly West said. Added Bryant: "Corona will be very good if they can stay healthy with (Lauren) Forte in the middle."

Basha and Mountain Pointe were mentioned as possibilities as well. The regular season opens Monday Aug. 29 with a handful of matches and kicks into high gear as next week progresses.

Here's a brief look at the top contenders and the players to watch:

Xavier and Hamilton return the most firepower from last year with Gilbert and Desert Vista not far behind. Xavier returns more than any team, but graduated one of the state's most dominant players ever in Khalia Lanier (USC) and a pair of solid setters. The Gators are led by middle blocker Makenna Patterson, outside hitters Kristen Klein and Lanie Wagner and sophomore setter Shannon Shields, an all-around talent who set quite often due to injury last year as a freshman on varsity.

Hamilton won't be lacking in experience with MB Preslie Anderson, hitters Darian Clark and Kayla Banyai and setter Sydney Lostumo. Gilbert is strong on the attack with OH Kaitlyn Lines and middles Krystal Blair and Alexa Rockas. The Tigers are installing new starters as liberto and setter.

Desert Vista, the two-time defending big-school champs, graduated a fistful of key players, but still has a couple in hand. The Thunder is paced by senior libero Kendall Glover and senior OH Hailey Dirrigl. Senior DS Lexi Gorosky and senior OH Morgan Schreckler saw a decent amount of time last year as reserves.

Horizon had its toughest season in several years in 2015 with youth and injury. The Huskies are led by senior OH Erin Clark.

The potential of Perry is glaring as coach Fred Mann welcomes back six of his top eight players in terms of experience. Junior OPP-OH Ryann Davis and junior MB Kennedy Kaminsky are 6-2 and 6-3, respectively. There's also senior OH Amanda Aguirre, senior setter Gabby Emery, junior setter Katie Koski and junior libero Halle Razo. Aguirre missed most of the second half of last season due to injury. Junior OH Alexis Keith transferred to Perry from Campo Verde where she played extensively in 2015.

Corona del Sol was without 6-4 MB Forte for about three-fourths of 2015. She's a force when on the floor,especialy combined with all-region selections (OH Brooke Nuneviller and setter Madi Reum). Libero Camryn Tucker, OPP Emma West, OH-MB Logan Wallerstedt, OH Erica Ronda and OPP Isis Mitchell were plenty involved throughout last season.

Other returning players to watch with all-region credentials are Mountain Pointe senior OH Chapin Gray, Basha setter Alexandra Fisher and Mesa High OH Annie Hatch.