Perry relying on experience as Gilbert VB begins
Zach Alvira, Tribune Sports Editor Sep 5, 2019
Perry High School has long been home to one of the top girls' volleyball programs in the state, making consistent appearances in the 6A tournament in its young history.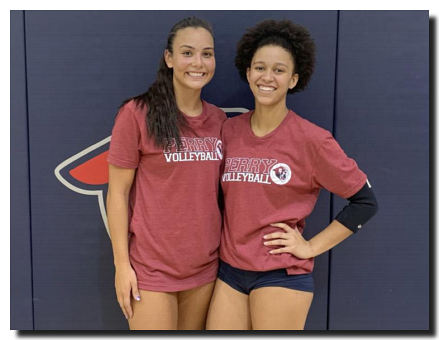 Fred Mann, the coach of the volleyball program, has largely been responsible for putting together a roster full of Division I capable athletes every year. Mann led the Pumas to a 32-4-1 record last season before losing in five sets to Corona del Sol in the semifinals.

The Pumas lost a plethora of talented seniors in last year's graduating class. But like he is able to do every year, Mann has reloaded Perry's roster this season, led by a pair of seniors in Tatum Stall and Sian Richardson that have plenty of experience playing at the varsity level.

"Tatum has been on varsity for three years and Sian has been on varsity for three years," Mann said. "Whenever you have two girls with that much experience, you know they are going to be good leaders.

"We are hoping they will do really well for us."

Stall and Richardson led the Pumas last year in kills with 278 and 264, respectively. They also were among the top-five on the program in aces with 68 combined.

The girls' offensive production last season carried over to defense, as they each had more than 25 blocks to go along with a combined 532 digs.

Defense has been key for Perry throughout the offseason. Mann believes his team's offense will once again be a strong point in 2019, but he wants to see improvement on the defensive side of the net.

"If we do a better job at blocking, then it helps the rest of the team overall," Mann said. "We think our serving and passing is pretty good, our blocking and digging just needs to come along."

Stall, Richardson and the rest of the senior class have helped lead the team to work on their defensive play. Most importantly, they've aimed to help the underclassmen on the team feel comfortable at the varsity level.

For many of them, it will be the first time they step foot on the court to face varsity competition. But it's important for them to know the rest of their teammates have confidence in their ability to compete.

"We want to make them feel safe," said Richardson, who committed to Cal State East Bay in July. "We want them to know they can come to us for anything. We all have each other's backs."

Perry recently took part in a four-team, round-robin scrimmage featuring Desert Vista, Casteel and Millennium.

The Pumas went undefeated in all three matches, but they didn't compete up to their own standards. They recognize there is still room for improvement before they take on Mesa to open the season on Thursday, Sept. 5.

"I think we did pretty well," said Stall, a Utah State commit. "We have a lot to work on, but I think we can get to where we want to be if we continue to work out butts off in practice."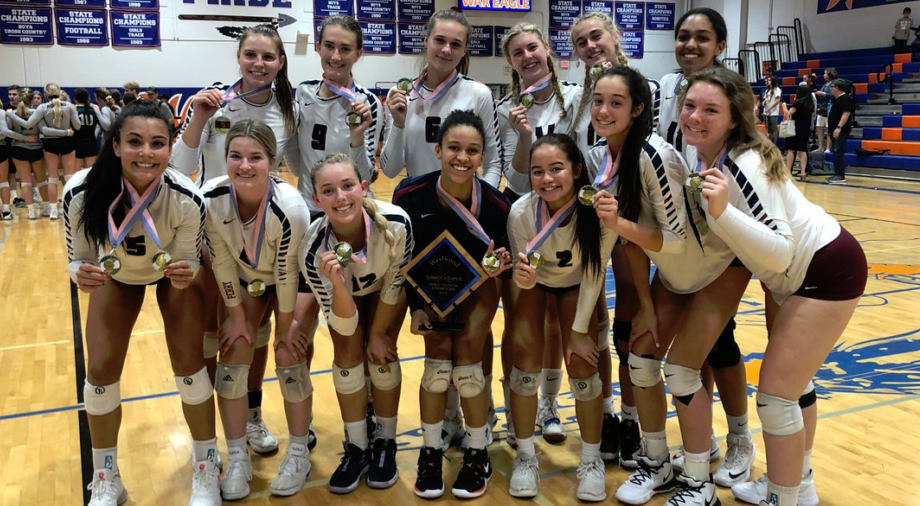 Perry claims top title at Westwood TOC
September 14, 2019 by Les Willsey, AZPreps365
Perry's volleyball team worked its way to the final on Saturday at the 28th annual Westwood Tournament of Champions Invitational the hard way. The Pumas didn not win their pool, but managed one of the other eight spots available in the Gold Bracket.

That meant the Pumas had to play an extra match to reach the final. They went 4-0 and claimed the title with a 2-1 triumph over surprising Highland in making amends for its runner-up finish to Hamilton in last year's tourney. Scores in the final vs. Highland were 25-21, 23-25, 15-11.

"We only had three matches coming into this tournament so we used it to help solidify our lineup," Perry coach Fred Mann said. "We made improvements in a couple areas we wanted to see. Highland beat us in a match yesterday and they've proven to be very tough. They dig everything."

Perry swept Mesa Mountain View and Centennial, 2-0, in its first two bracket matches and regrouped in a third set to down Corona del Sol in the semifinals.

Perry, which showcased several powerful hitters, was led in its tourney triumph by invite most valuable player Tatum Stall. Stall, a senior outside hitter, collected 13 kills in the three-set final. Junior Ella Rud added 12 kills and junior middle Makayla Long chipped in seven.

Highland, playing in an invitational for the second week in a row made it two title-match appearances in a row. They lost to defending 6A champ Xavier Prep last week at the House of Payne Invite.

This one ended in a runner-up finish again, but the Hawks have made believers of the competition in two weeks of play with their relentless defense led by libero Abby Peterson and adequate hitting sparked by junior outside Samia Bhakta. Bhakta equaled Stall for match-high in kills with 13.

Perry repeats as Birdcage Invite champion

October 12, 2019 by Les Willsey, AZPreps365
A mix of volleyball teams from several conferences gathered this weekend for the 2nd Annual Birdcage Invitational. It was the top-ranked team in 6A winning the crown again -- Perry.
The Pumas lost only one set over two days and eight matches culminating with its 25-22, 25-15 victory over Scottsdale Christian in the tourney hosted by Chaparral High School.
"We started a little slow (Friday), but we got better as the day went on," Perry coach Fred Mann said. "Today we played very well. Particularly our setter, Jenna Heller. I would say if there was an MVP for us in the tournament it would be Jenna. She's an intelligent player and spreads the ball around. Usually to the person with the best chance of putting it down."
Heller, a junior, collected 23 assists in the title match. Junior outside hitter Ella Rud led Perry with 10 kills and senior outside Tatum Stall checked in with 8 kills and four aces.
After easily topping Desert Ridge, Greenway and Chaparral to reach the title match on Saturday, Perry took some time getting going against Scottsdale Christian - the only team that won a set from the Pumas in the tournament.
Scottsdale Christian, the defending 2A champ, jumped out to an 8-2 lead only to see Perry come roaring back for a 15-10 advantage. Next thing you knew SCA was back in front, 21-17.
But Perry ran off eight of the next nine points to notch the first set. SCA helped Perry in that stretch with a net violation, lift and four hitting errors.
SCA paid for opening the door open for Perry to win the first set. The Pumas played much better from the start in the second set and the final tie of the set was 7-7. A dump kill by Heller capped a 7-0 run that essentially put the Eagles away down 14-7. Stall served six of those seven points.
Scottsdale Christian's attack was paced by senior outside hitter Taylor Raiola with a match-high 12 kills. Raiola registered eight of those kills in the second set.
Five of the eight teams entered were 6A - Perry, Chaparral, Desert Ridge, Valley Vista and Sandra Day O'Connor. Defending 4A champ Greenway and and 5A Cactus Shadows completed the field with SCA. All the teams except Valley Vista are ranked in the top 10 of their respective conferences.