Perry defeats Xavier, moves one step closer to a championship
November 18, 2020 by Lindsay Zienty, Arizona State University

The Perry Pumas faced a familiar opponent in the 6A girls volleyball quarterfinals Tuesday night. Xavier and Perry previously met in October, when the Pumas swept Xavier 3-0, although they were not going to let overconfidence be their downfall. This time, the top-seeded Pumas beat the Gators, 3-0, to move one more step toward a championship season.

Perry captains Jenna Heller and Ella Rud prepared their teammates by reminding them this was a new game and atmosphere considering it was the playoffs. "I think we were confident, but we still went in with the mindset that every set is 0-0. It is set one every set. We go in with confidence because every player needs that, but we also are reminding ourselves that this is quarterfinals, we got to kill it," Rud said.

Xavier, seeded No. 8, was known for the tough angles they were able to hit from and their strong middles. It was key for the Pumas to block and counterattack from every spot on the court.

"Xavier likes to run pushes, ones, and slides, so in practice, we focused a lot on running on middles and hitting from both directions, but most of all just staying cool, calm, and collected on the court," Rud said.

Senior outside hitter Alyssa Montoya came up big for the Pumas after spending a lot of hours in practice this season perfecting her blocking technique. "I have been working on my blocking all season. My hands tend to drift. The pressing angle worked really well tonight and that is how we get stuffs," Montoya said.

Heller, the Pumas' starting setter, was explosive on the block as well and key for creating scoring opportunities for her teammates. "I have been working on my offense, and when I am front row dumping or even back row, I think that holds a block and creates more opportunities for the hitters," she said.

Heller's work paid off and showcased just how deadly the Pumas' setter-hitter connection is. She also highlighted how important of a role her co-captain, Rud, played in Tuesday's game.

"Ella kept her confidence and was swinging amazingly. She led our team," Heller said.

Perry has consistently been able to get on top early in sets. "If we win the first two sets we can't let down the third set, we have to be just as strong, because that is what happened in the state finals last year," Montoya said.

They credited their coaches for instilling a humble mindset that reminds them to prepare for each set as if the game was still 0-0.

"Every set we win, our coaches say it is a new set. We need to play every point super hard," Montoya said.

Perry advanced to the semifinals where they will host No. 4 seed Mesa Mountain View Thursday. The Pumas went 3-0 in their previous matchup against the Toros.

"We have played Mountain View, they were very scrappy. They love to swing high hands, so we have to keep our block strong," Rud said.
Perry completes perfect volleyball regular season
NOVEMBER 04, 2020 by Les Willsey, AZPreps365

#1 Perry put the finishing touches on a perfect 2020 regular season with four-set victory in impressive fashion over #12 Sunnyslope, 25-9, 18-25, 25-12, 25-15 in a 6A match at Perry High.

The Pumas, last season's 6A runner-up, were nearly flawless in the opening set, tumbled in the second to the more focused Vikings before getting back to form for a 3-1 triumph.

"We were strong the first set and kind of turned the switch off in the second," Perry coach Fred Mann said. "Sunnyslope got back at us in the second, but I liked how we bounced back to more how we play in the third and fourth sets."

Perry (15-0) will have time off from matches while the state tournament pairings are assembled later this week and play-in games take place on Nov. 10. The Pumas won't play again until Nov. 14. Sunnyslope, which moved up to 6A this season, won the truncated 6A Southwest Region. The Vikings won the 5A title last season, but ran into many of 6A's top teams the last couple weeks. Prior to Wednesday's loss, the Vikings lost four of six matches to #3 Highland, #5 Sandra Day O'Connor, #7 Xavier Prep and #9 Corona del Sol.

Wednesday night's opening set was a clinic by Perry and there was little Sunnyslope could do to defend. The Pumas registered 18 kills and were machine-like in all aspects. Outside hitters Alyssa Montoya, Ella Rud and Avery Burks combined for 13 of those kills - 5, 4 and 4, respectively. Montoya and Rud finished with match-high 17 kills apiece while Burks hit double-digits with 12 and middle Makayla Long added eight. Libero Jordan Suan was steady defensively with 24 digs and Jenna Heller amassed 48 assists. McKenna Dressel and Long posted four and three blocks, respectively.

Sunnyslope shook off Perry's first-set prowess responding with its best set of the match in the second, much to the admiration of coach Amber LeTarte. Thye Vikings had five players contribute on the attack in the set led by Alexia Scott, Avery Kronholm and Michelle Jung. Those three and Laylah Daniel all finished the match with six kills each. Scott led in digs with 11 and Jung managed two blocks.

Perry wasn't as strong in the third and fourth sets as it was in the first, but was still plenty good to finish off the match with little resistance. Rud had five kills and Long three in the third set. Rud and Montoya collected four kills each in the fourth set.
Perry digs deep to upend Hamilton VB in five sets
September 30, 2020 by Les Willsey, AZPreps365

Perry girls volleyball coach Fred Mann wasn't necessarily resigned to his team bowing to Hamilton with the Pumas in a deep hole in the fourth set of Wednesday night's 6A Premier Region match. The Pumas needed to deny at least five match points to survive.

Perry, down 2-1 in sets and trailing 24-19 in the fourth, was indeed in trouble. Mann reluctantly asked for a timeout.

"I'd never called a timeout in my career down 24-19," Mann said. "I learned as a younger coach you don't wait to 24 to take time."

Whether or not that break in play was a turning point is up for debate, but Perry delivered the fourth set and claimed the match in five. Scores were 21-25, 25-21, 18-25, 27-25 and 15-13 before an entertained COVID-19 gathering at Hamilton High.

Hamilton (3-1) enjoyed the best of the action through nearly the first four sets. Perry (5-0) won the the second set to guarantee the match went four, but was handled in the third and looked about done in the fourth.

Hamilton's first of six match-points in the fourth set came out of the timeout with Huskies' standout junior hitter Jordan Middleton serving for the match. Middleton, who led all players on the attack with 27 kills, served into the net. A Hamilton hitting error plus a Rud kill and two aces from Perry's Layla Handley forged a 24-24 tie. Handley committed a service error giving Hamilton its next match-point chance. Perry's Maddie Mayginnis and Avery Burks added kills giving the Pumas their first match-point attempt. A Hamilton hitting error brought on a fifth set.

Perry used its seniors to advantage in the final set getting a pair of kills each from outside hitters Ella Rudd and Alyssa Montoya and setter Jenna Heller. The Pumas jumped to three-point leads (7-4 and 8-5) only to see Hamilton edge in front 11-9 on one of Middleton's final two kills of the evening. The final tie of the set was at 12. Perry finished with a Mayginnis kill and two from Rud, including the match clincher.

"Perry handled the pressure better late than we did," Hamilton coach Sharon Vanis said. "They have a lot of seniors in their lineup. Their experience showed."

Perry, which didn't lose a set in its first four matches, had three hitters with double-digit kills -- Rud (16), Montoya (11) and sophomore Burks (10). Heller collected 45 assists and Mann gave a huge shout out to junior libero Jordan Suan (34 digs). Senior middles Makayla Long (5 blocks) and Mayginnis (3 blocks) had their moments.

Along with her 27 kills, MIddleton checked in with 17 digs one back of the 18 from libero Tatum Thomas. Hamilton also had two more hitters in double figures in kills - Jahara Campbell (18) and Micah Gryniewicz (13). Setter Diana Ethridge handed out 57 assists.

Perry plays again Thursday hosting region-rival Chandler. That will complete the Pumas' first round of region match-ups with Basha, Xavier, Hamilton, Chandler. The Pumas will be off until after fall break after that. Hamilton visits Xavier on Thursday.
Perry opens VB season with flourish
September 23, 2020 by Les Willsey, AZPreps365

Perry's volleyball team had to wait an extra day to start the delayed 2020 season, but they showed Wednesday evening it was worth the wait.

The Pumas began a new quest for the top prize in 6A with several holdovers from last year. They took the measure of host Highland convincingly, 25-18, 25-10 and 25-18.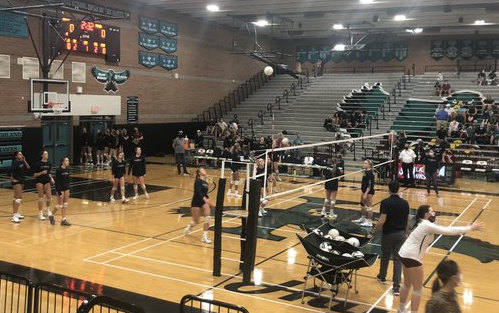 Perry, which had several match-point chances to win and sweep the 6A title last year, looked in midseason form with two-thirds of last year's roster in tow.

"I was happy to get away with a win, this is not an easy place to play," Perry coach Fred Mann said. "We did play very well, but there are things to work on. Our experience showed."

Senior outside hitter Ella Rud paced a varied attack for Perry with 14 kills and added three aces. Another senior - outside Alyssa Montoya - stepped into a bigger role and posted 11 kills. Senior middles Makayla Long and Maddie McGinnis, who also has a larger role, checked in with six kills apiece. Seven different players contributed kills. Lat year's All-Premier Region setter and senior Jenna Heller dished out 36 assists. Junior libero Jordan Suan led in digs with 15. Suan, Rud, Heller and Long are the returning starters.

Highland (1-1), lost in the state semis to Perry last year. The Hawks (1-1) opened the season Tuesday with a 3-1 triumph over Mountain Pointe Coach Jordan Neal had some top-flight returners as well. Highland featured three key seniors. An all-Region setter of its own (Central) in Natalie Palmer, all-region outside hitter Samia Bhakta and outside Kennedy Williams. Wednesday night was an uphill fight from the get-go for the hosts.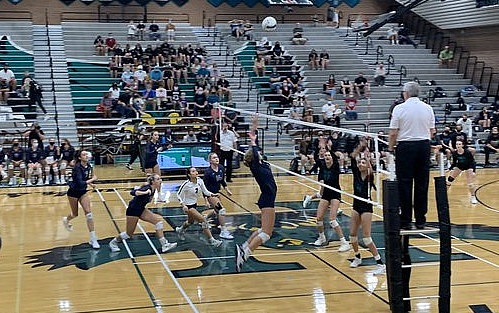 "Perry is one of the best teams, maybe the best and we had no answer," Neal said. "They were in system all night. We couldn't find a way to disrupt them. They passed well, and dug just about everything. I don't know if there was anything we could have done."

Bhakta labored for nine kills. She and Williams added seven digs apiece.

With schools mostly playing three matches a week, it's back to action for both on Thursday. Perry hosts Basha in a rematch of last year's 6A title game and Highland visits Corona del Sol.