#3 Perry VB avenges sweep in kind to #2 Hamilton
October 21, 2021 by Les Willsey, AZPreps365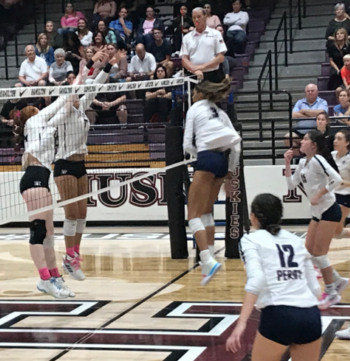 One wouldn't expect in the match-up of #2 Hamilton and #3 Perry volleyball teams the outcome would be domination by one over the other.

It happened a little more than three weeks ago with Hamilton sweeping Perry, 3-0. The rematch of 6A Premier Region rivals took place Thursday and Perry settled the score with a 3-0 sweep of its own. In the aggregate one could say they are evenly matched (3-3).

Perry' steady play rarely wavered in dealing host Hamilton a 25-18, 25-21, 25-16 defeat. The victory means Perry (13-1 power-ranking matches, 6-1 region) has forged a tie for the region lead with defending 6A champ Hamilton (12-2, 6-1) with three region matches remaining. Hamilton defeated Perry in the title match last season.

"We served well and played good overall," Perry coach Fred Mann said. "Our blocking was much better than the first time. We just played a lot better this time."

Perry trailed only once in the opening set and pulled away after Hamilton drew within 14-13. Perry made few miscues to the finish of the set with only one hitting error. Two kills from Layla Handley, one each from Avery Burks and Adi Galvanoni and two Puma blocks highlighted the close out. Hamilton endured a couple of hitting errors and a service error in the same stretch.

The second set saw Perry trail up to the 12-point mark, taking a 12-11 lead on a Burks' kill. The Pumas led the rest of the set and by as many as four. A kill and block by McKenna Dressel helped maintain the lead and a Galvanoni kill brought on the third set.

That third set was Perry's best. They built a 15-9 lead and the margin never dipped below four the rest of the way. The Pumas scored five of the their final eight points on their own. Two kills each by Burks and Handley plus a a Handley ace.

Hamilton's loss was only its second in power-ranking matches and its first since opening night when the Huskies bowed to #1 Sandra Day O'Connor in five sets. Hamilton had its 12-match winning streak in power-ranking matches end with the defeat. All 12 of those wins were 3-0 sweeps.

"We'd been rolling, rolling, rolling," Hamilton coach Sharon Vanis said. "Maybe it's a wakeup call. We didn't play as well as we have, but they were much better than the first time."

Perry's stat leaders in kills were Burks (19) and Handley (10) to go with two aces. Setter Reagan Reynolds posted 22 assists. Defensively libero Jordan Suan led in digs with 21 and Dressel contributed four blocks.

Hamilton's kills leader was the team leader for the season - Jordan Middleton. Middleton had 14 and Micah Gryniewicz added eight. Setter Melia Barlow was busy with 32 assists. Defensively Tatum Thomas collected 17 digs and Gryniewicz and Ella Butler chipped in with three blocks apiece.

Hamilton VB keeps rolling, knocks off Perry
September 29, 2021 by Les Willsey, AZPreps365

The defending state 6A girls volleyball champions Hamilton kept rolling Wednesday night. And not against an ordinary opponent.

In a rematch of the 2020 6A final, the Huskies pulled off a sweep of host Perry by scores of 25-20, 25-22, 25-15. The victory was the 19th in a row for Hamilton, which includes seven power-ranking matches and 12 in invitational tournaments. All seven of Hamilton's power-ranking victories have resulted in 3-0 sweeps. It was Perry's first power-ranking loss of the season in nine PR matches.

"We've had a hard time against them when they play at home," Hamilton coach Sharon Vanis said. "We're playing pretty well right now. It's nice to get a win here."

Hamilton (7-1 power-ranking matches, 3-0 region) last defeated Perry (8-1, 2-1) on its home floor in 2016. The teams play home-and-home each year as region rivals. Hamilton lost two of three meetings between the teams last year. The Huskies triumph over Perry was worth the title trophy.

Hamilton senior outside hitter and three-year starter Jordan Middleton led all players in kills and was especially lethal when sets came down to the end. Middleton delivered three successive kills in the opening set with the score knotted at 18. She added one more before the finish in the five-point set win.

With a 15-14 lead in the second set, she recorded kills on four of five attacks putting Hamilton in front for good on the way to a four-point win. The third set was all Hamilton as the Huskies shot to a 10-4 lead. Perry got no closer than three points the rest of the way. Hamilton committed just two hitting errors in the third set.

Middleton collected 22 kills and chipped in on defense with 12 digs. Senior Micah Gryniewicz and junior Neomi Beach registered eight kills apiece. Senior libero Tatum Thomas had 16 kills and agile middle Demya Tate controlled the net with seven blocks. Setter Melia Barlow had 43 assists. Perry's leaders in kills for the match unofficially were Avery Burks with 8 and Laylay Handley and Reese Biesemeyer with 7 apiece.

Notre Dame Prep nearly flawless in tourney triumph
September 4, 2021 by Les Willsey, AZPreps365

Notre Dame Prep almost swept through the 2021 House of Payne Volleyball Invitational Friday and Saturday at Chandler High.
Save one lost set in bracket play (vs. Sunnyslope) on Friday of the two-day event, the Saints were not to be denied the title in the first invitational schools were allowed to play since 2019 due to the pandemic.
Notre Dame Prep knocked off Perry, 25-22, 27-25 in the championship match showing their mettle in each set, especially the second when it fought off four set points and rallied to win.
Notre Dame is 9-0 for the seasons and won all seven of its tourney matches defeating Gilbert twice, Chandler, Desert Ridge, Sunnyslope, Sandra Day O'Connor and Perry. Perry won four of seven matches to reach the final. Perry advanced to the title match beating Sunnyslope while Notre Dame's second win over Gilbert powered the Saints to the title game. Sunnyslope ended up taking third place with a 25-20 victory over Gilbert.
Notre Dame Prep coach Holly McLean anticipated her team would would make a strong showing with many battle-tested players from last year's 17-1 runner-up finish in 4A.
"We were just very efficient," McLean said. "They knew the game plan, and executed it every match."
Notre Dame Prep was led by tournament most valuable player Evan Hendrix. Hendrix is quite a talent and a sophomore playing her second year on varsity. Hendrix backed up her MVP nod, granted a few minutes before the title match. She registered a whopping 22 kills in the title match. Teammate Sophia Ross was next in kills with six.
Notre Dame Prep never trailed in the opening set building a five-point lead early and an edge of six a couple times. Perry gradually cut the lead from 16-10 to a 20-20 tie. Hendrix registered three kills among the Saints final five points including the set decider.
Perry turned things around in the second set leading nearly the entire set. Leads of 8-3 and 13-8 were the Pumas largest. They were a point away from forcing a decisive third set, leading 24-20. Three kills from Hendrix and a Perry hitting error knotted the score at 24.
Perry nabbed its final lead 25-24 on a kill by Layla Handley. Two kills by Hendrix and match point was delivered next via an ace from the Saints' Isa Blackwell.
The Pumas were more balanced on the attack. Handley, and Adi Galvanoni put up six kills each. Reese Biesemeyer added five kills and Isa Blackwell four.